Meet the winners of the Entrepreneurial Woman Project 2022
December 16, 2022
by
lpcc
in Events
On Monday, the 14th of November 2022, we celebrated the Grand Finale of the 9th edition of the Entrepreneurial Woman Project. During this exhilarating day, we heard from an inspiring business persona from Luxembourg, the project sponsors, and the participants themselves. The Award Ceremony, hosted by Lisa Burke, proceeded in a very welcoming atmosphere and it was followed by official celebrations including a banquet & live music.
Scroll down to find out more about the winners of the 9th edition!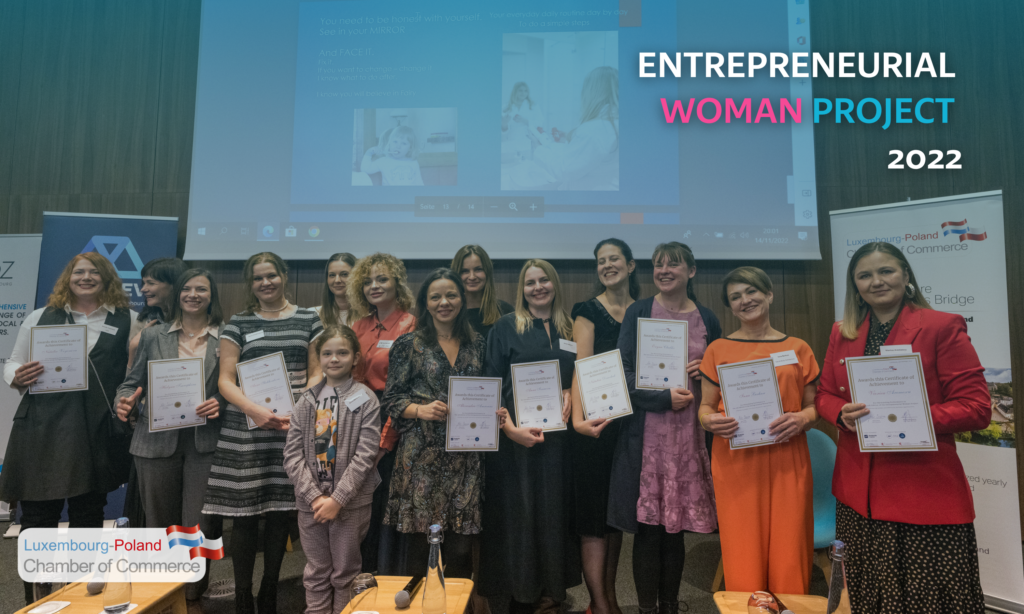 1st prize winner – Anna Ivanova & her Beautycare project
My project is about self-acceptance and the ability to honestly accept your age and skin condition.
I want to teach people in Luxembourg how to properly care for their skin. I want to teach the culture of home care. People need to understand how their skin is arranged and why wrinkles appear.
In my work, I use the experience of 20 years of practice and system analysis. No injections, no pain, no complications. Only real results and healthy radiant skin.
Consultations are possible in person or online. I will analyze your type of aging and skin characteristics and recommend a working scheme for your skin care, exercises and beauty treatments if necessary. And of course, I give you the best home beauty routine.
A lot of thanks for all team EWP training, it was a really wonderful 2 month with a lot of information and a lot of positive emotions.
This project gave me confidence in my abilities and knowledge, I am sure it helped me to develop my business in Luxembourg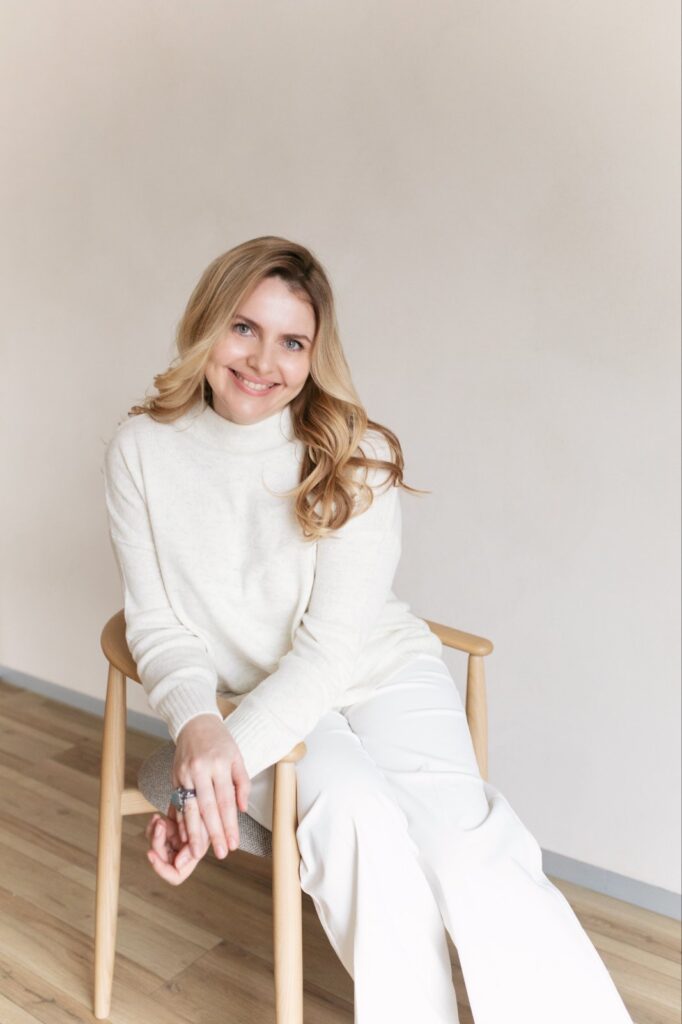 To find out more about Anna's endeavours visit her website & her instagram @beautycare_fairy. Anna likes to keep herself busy. She's already working on a new project called FaceIt. You can find out more about that here or on the instagram @faceit_lu. Don't forget to take a look at her winning presentation below ↓
2nd prize winner – Nataliia Demchuk & her Ukrainian Cultural Center of Luxembourg project
I was brought to the EWP training by my genuine interest to better understand the main ideas behind "doing business", as I had always considered myself quite far from commercial, profitable entrepreneurial activity.
As a result of EWP, I came to a major twist in my consciousness which happened through realisation that all of my activities and work in the non-profit sphere have been just as "business" as ever! I embraced my very own business experience and potential.
At the training, I was honoured to present activities of our newly registered asbl Belle Bandura, which started as a duo of Ukrainian Songs and Bandura Music back in 2020, with my colleague and friend Nadiya Balych. Since the day I first came to Luxembourg in 2019, I wanted to find and later to found a Ukrainian Cultural Center of Luxembourg and so I took this ambitious incentive as a project to present at the final stage of our EWP and I cannot thank enough for the great support it had received.
Today, despite the tragic context, and as never before, we are responsible to share our ancient and authentic Ukrainian culture and traditions, and explain the true historical prerequisites to all the mind-twisting realities of modern Ukraine, greatly affecting the whole world.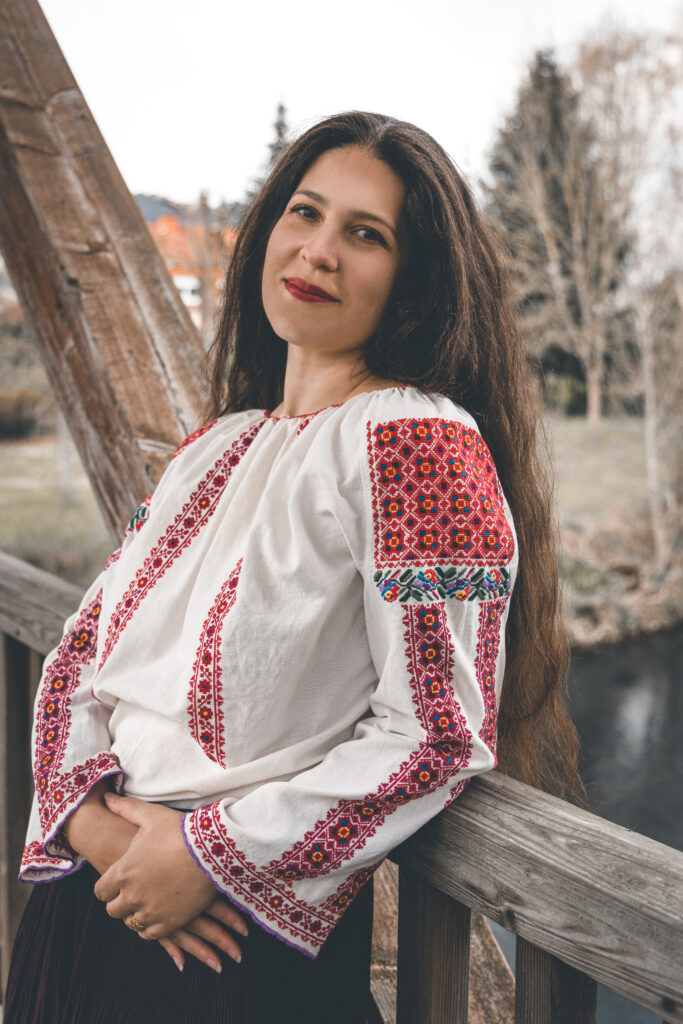 I am strongly convinced that sharing what I am as many other lucky Ukrainians are carriers of, meaning our strong roots, cherishing our ancestors' wisdom of life and the whole Universe, centuries-long experience of state building and enrichment, can be beneficial to the generously diverse Luxembourgish society, which has been supporting Ukraine tremendously, showing genuine interest to learn more about us.
Nataliia is a teacher, singer, doula, and volunteer. You can feel free to learn more about her ongoing and future activities via Facebook and on her website. You may also invite her to perform and (or) present at your event!
Contact info: bellebandura@gmail.com, +352 661 647 191.
3rd prize winner – Anna Shekhvatova & her project on Digital Marketing
Thank you very much for this opportunity. It was very interesting and rewarding. I am sure that I will use new knowledge often and a lot. Before training, I had little idea how I could develop here, but after the training, it is much easier and easier for me to navigate the new environment for me. Thank you very much and hope that we will meet many more times and cooperate in the future – says Anna about the Entrepreneurial Woman Project.
You may connect with her on LinkedIn or see more contact info in the presentation below.
Learn More about the Entrepreneurial Woman Project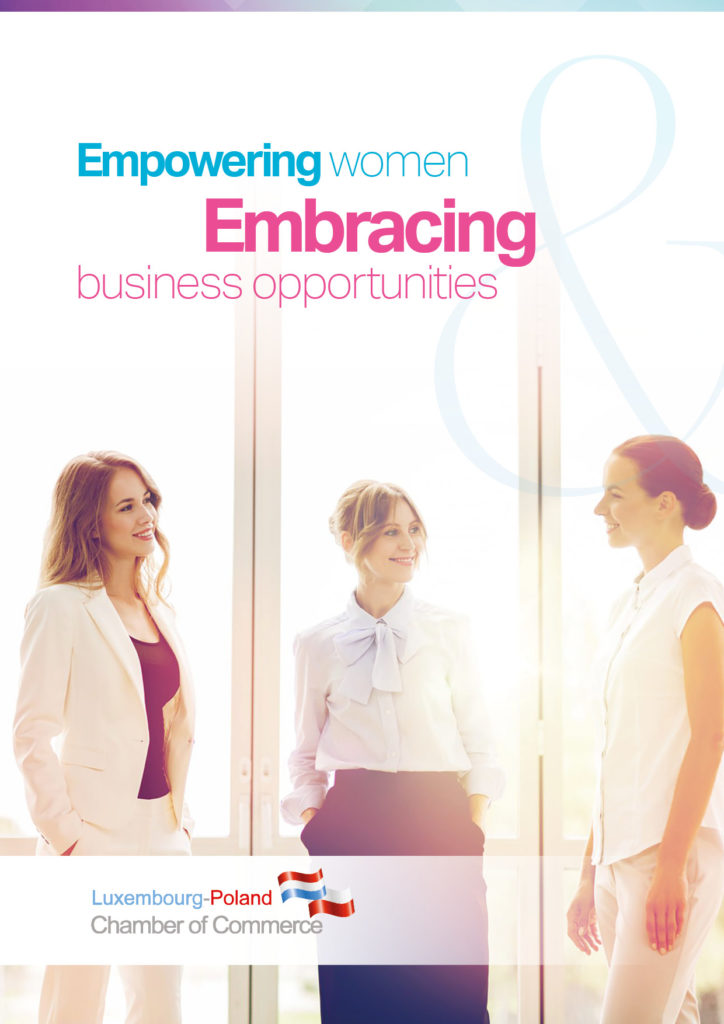 You may read more about how the Entrepreneurial Woman Project 2022 unravelled through the 6 weeks of training with exclusive highlights & photo reportage here. And don't forget to check our gallery for more photos from the Award Ceremony.
The Entrepreneurial Woman Project was established in 2014 by the Luxembourg-Poland Chamber of Commerce, with the support of the Ministry of Economy, the Polish Embassy in Luxembourg, and the Luxembourgish Embassy in Poland. The series of workshops is addressed to English-speaking women of all nationalities. The training is focused on helping the participants understand the processes, challenges, risks as well as rewards of starting and successfully running their own venture in Luxembourg. Read more about EWP on the Project's page by clicking here.