Q Securities S.A. enters the Luxembourgish AIF depositary market
January 11, 2021
by
lpcc
in General
We are pleased to introduce an interview with Piotr Zaczek, Branch Director Luxembourg Country Head from Q Securities company.
LPCC: Over a year ago Q Securities, a Polish brokerage house established in 2012 joined the group of corporate members of the LPCC. What made the management of the company take this decision?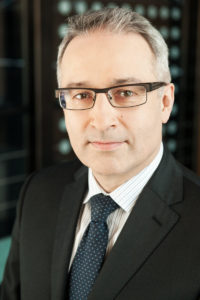 PIOTR ZACZEK: Q Securities has been successfully developing depositary services for alternative investment funds in Poland since 2016. With more than 160 funds and €15bn of net asset value (NAV) we are one of the market leaders there, ahead of many banking providers. We are also the only non-banking institution providing this kind of service in Poland. On top of that, we are an independent service provider focusing exclusively on depositary services, which makes us really keen on quality and meeting clients' expectations. We partner mostly with management companies, banks, fund administrators, and transfer agents but also legal and consulting firms and tax advisors. The shareholders and management board of Q Securities made the strategic decision to enter the Luxembourgish market in January 2020. The announcement of the decision was made in February at the LPCC's monthly meet-up, even before the formal filing of documents for passporting the license. LPCC was chosen as announcement media as it is the best market advocacy platform to fulfill our philosophy of business development aiming at achieving our strategic goals in Luxembourg.
LPCC: Our cooperation began with a joint event, the LPCC monthly Meetup, organized for a wider audience in February 2020. Why did you bet on Luxembourg? How much potential do you see in Luxembourg?
PIOTR ZACZEK: Having achieved a leading position in Poland in servicing alternative funds we decided to take on a new challenge, in the more competitive and prospective Luxembourgish market. Through this decision, we are responding to the loudly expressed market need for independent depositary services (hence proper depositary oversight) for smaller and lower medium-sized alternative funds in Luxembourg. The other factor is that we also following our existing Polish clients' expectations. The presence of Polish (and CEE) investors in Luxembourg – domiciled investment vehicles is growing and they would like to have a high standard of service here. We believe that with our focus on quality, combined with supported high operational capabilities provided by Warsaw-based headquarters, we can be in a position to service more than 100 Luxembourgish funds by 2025. We came to that conclusion after meeting our business partners – members of LPCC, who welcomed us warmly here.    
LPCC: Q Securities develop business lines from the depositary, through records of financial instruments or funds. What are the strategic plans of the company in a 2-5 year perspective?
PIOTR ZACZEK: Q Securities S.A. Branch, having a full depositary license for alternative funds, provides services only in one product line in Luxembourg.  Despite the fact that we have actually two licenses for Grand Duchy brokerage and depositary – the first license was only obtained through passporting Q Securities S.A. activities amid the EU notification process. We do not intend to launch any other services on top of depositary. We would like to focus on our core activity to make it right and the best possible way.
LPCC: Who is a typical Q Securities client and what entities use your services?
PIOTR ZACZEK: Our target clients are Luxembourg domiciled alternative funds. We aim to provide services to the broad spectrum of them e.g. PE, RE, infrastructure, debt, securitisation, hedge, and finally public equity funds. However, we see the biggest demand for the first three categories. The recent ALFI Luxembourg RE investment funds survey shows that the majority of newly launched RAIFs, fall in the category of a NAV of under EUR 100 million – that is exactly our target clients (type and size). We foresee the cooperation mostly with independent AIFMs as they are looking for selected quality providers rather than bundled, one-stop-shop providers.
LPCC: What makes you stand out in the market? What is your strength?
PIOTR ZACZEK: Q Securities S.A. provides one service type and our full focus is on it. We do not intend to extend our product palette into Central Admin nor Fund Management. As such we aim at delivering the highest possible standard of service at a reasonable price, with a short response time and a proactive approach to problem solving.
LPCC: Piotr, from September 2020 you represent the Q Securities team in Luxembourg, what is your role in the team? 
PIOTR ZACZEK: The Q Securities Luxembourg Branch was launched on October 1st, 2020 the same day that we received CSSF letter allowing us to do so. We received the AIFMD depositary authorisation on November 13th, 2020.  As you can imagine the work on MIFID license passporting from Poland and application for AIFMD license has started much earlier – we commenced actual work in February. The successful application was due to excellent teamwork in Warsaw and the clear business vision we have always had. I was selected for the role of Branch Director and conducting officer to implement this vision in Luxembourg. My role is to build the local team to constitute a real service substance. Additionally, I have some networking and representation functions so as a Country Head I will be promoting Q Securities within the Grand Duchy. That includes also my participation in LPCC's Expert Panel. 
LPCC: What challenges await your company in 2021?
PIOTR ZACZEK: Q Securities is and will be facing the same challenges as other players on the fund servicing market, working under pandemic restrictions, constantly increasing regulatory scrutiny mostly in KYC/AML area, but also specific to our unique setup of independent player – looking for trustworthy and reliable players who appreciate quality of service and put client interest first.