Meet the Inspiring Trainers of the Entrepreneurial Woman Project 2023
Welcome to our blog, where we are thrilled to introduce you to the extraordinary trainers who will be guiding and mentoring participants in the 10th edition of the Entrepreneurial Woman Project (EWP) 2023. This highly anticipated initiative, proudly sponsored by AKD, BSP, and ATOZ, aims to empower and support aspiring women entrepreneurs in their journey towards building successful businesses.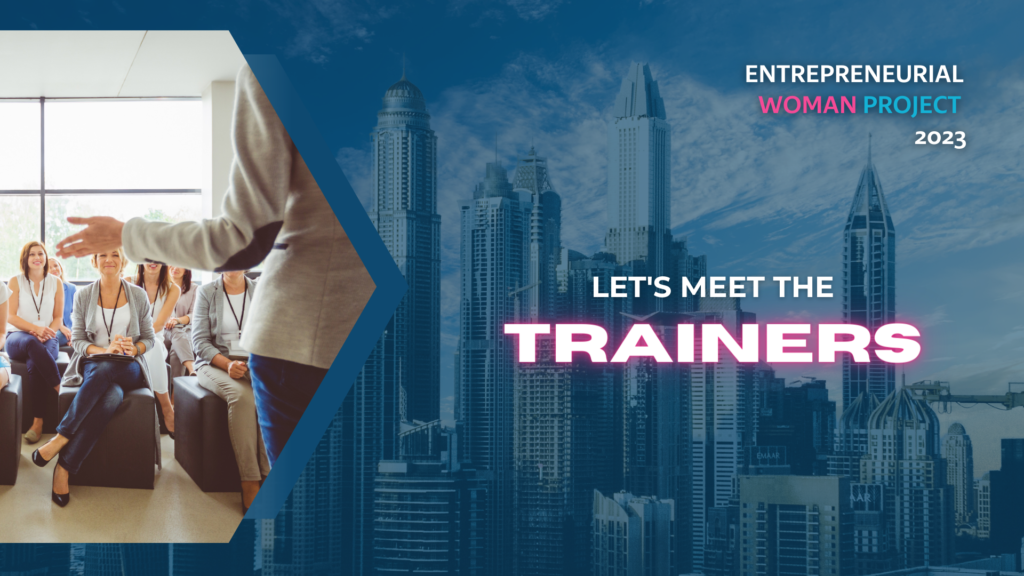 EWP is a comprehensive training program designed to equip women with the essential skills, knowledge, and resources needed to navigate the world of entrepreneurship. With a focus on business development, networking, and professional growth, EWP offers a unique opportunity for women to transform their business ideas into reality.
The 10th edition of the Entrepreneurial Woman Project will start on Saturday, the 23rd of September. Better secure your spot in the program before it's too late!
Now, let's meet the remarkable trainers who will play a pivotal role in shaping the entrepreneurial future of our participants:
---
Unveiling the Powerhouse Behind EWP 2023:
Introducing the Dynamic Trainers!
Neha Bhandari | Dress for Success
You needn't be an avid fashionista to be aware of how important our dress sense is to our reputation in the 21st Century. The clothes we wear send powerful signals to our peers and strangers, projecting the self-image of us that we want to display. Just like our culture, education, and religious beliefs, let's accept clothing as another element of our personality that defines who we are.
Objectives of the Workshop:
🔸 Understand the key elements of a workwear wardrobe
🔸 Discover the wardrobe essentials
🔸 Learn the impact of colors on dressing
🔸 Wardrobe display and layout strategies
🔸 The essential Do's and Don'ts for work wear
Join Neha's empowering workshop designed specifically for women to unlock the secrets of personal style. Discover how clothing can serve as a powerful tool to enhance your professional image and express your authentic self.
Through this interactive session, delve into the world of colours and learn how they can positively impact your overall presence. Let's decode our wardrobes together and make clothes an integral part of who we are.
In just 8 seconds, others form judgments based on our appearance. Clothing and mannerisms reflect our confidence and success. However, we understand that getting ready to conquer the world every day can feel like a daunting task. Therefore, Neha's here to help!
You can find out more about Neha and her brand StylizedU on her Website, Facebook and Instagram.
---
Emilia Zakrzewska | Personal Branding
Unlock the secrets of successful personal branding and communication strategies with Emilia, a seasoned consultant with over 15 years of experience in the professional and financial services industry. From working with prestigious law firms to financial institutions, Emilia has honed her expertise in business development, communication, and personal brand management.
With a deep understanding of the media's influence on shaping the image of influential women, she brings a unique perspective to image-building strategies.
Discover her insights and gain practical knowledge to elevate your personal brand and effectively navigate the world of public affairs and public relations. Learn from Emilia's wealth of experience and empower yourself to make a lasting impact.
"We are delighted to take part in this year's Entrepreneurial Women Project and share our knowledge with the participants. As ProService Finteco, we support female entrepreneurship and promote the benefits of diversity in business. We want to inspire and encourage women to develop professionally and personally, take on new challenges in the business world and realise themselves in leadership positions. We pay particularly close attention to quotas. We are one of the few companies in the financial market to boast almost 50 per cent women in the company and an equally high percentage of women in management positions." – said Emilia Guz, CEO at ProService Finteco
She will conduct her workshop about managing a personal brand in business with psychologist and expert in public relations and influencer marketing Dagmara Tarka.
Together with Dagmara Tarka, she co-creates
"PR na backstage'u" podcast and show #NaBackstage'u on online platform #anywhere.pl.
---
Dagmara Tarka | Personal Branding
Learn the power of personal branding with Dagmara, an expert in crafting effective PR strategies for lifestyle, beauty, and fashion brands. With a proven track record of success, she has collaborated with over 35 companies, delivering impressive results and driving high customer satisfaction.
As a lecturer at the renowned University of Warsaw and a graduate in Psychology and Journalism, Dagmara brings a unique blend of expertise and practical knowledge to help you create an impactful professional image.
Gain invaluable insights and learn the art of personal branding from an industry insider who continually enhances her skills through ongoing training and education. Elevate your personal brand with Dagmara and set yourself apart in today's competitive landscape.
She will conduct her workshop about managing a personal brand in business with Ph.D. and PR Director Emilia Zakrzewska.
.
.
Together with Emilia Zakrzewska Ph.D, she co-creates
"PR na backstage'u" podcast and show #NaBackstage'u on online platform #anywhere.pl.
In addition, Dagmara has her own PR show: #punktPR on online platform #anywhere.pl
---
Marie-Christine Simon | Intellectual Property
Are you ready to dive into the world of intellectual property (IP) rights and discover how they can elevate your business? Look no further! Join Marie-Christine for an enlightening workshop where you will explore the fundamentals of IP and its significance, especially for young companies.
During this training, you will delve into the crucial aspects of IP that every entrepreneur should consider. Learn when and how to protect your trademarks, logos, and inventions to ensure your business ideas and products are safeguarded. Discover the affordable process of filing for trademarks and designs, empowering you to secure your brand identity and prevent unauthorized use. It is essential to navigate the IP protection journey with expert guidance to avoid costly mistakes with far-reaching consequences.
"I'm looking forward to sharing my experience in protecting and defending IP rights, in particular trademarks and designs with the (future) entrepreneurs and to learn more about your projects to accompany you in your entrepreneurship journey"
Don't miss this opportunity to tap into the potential of intellectual property and take your business to new heights. Join the workshop and empower yourself with the tools and insights needed to protect and maximize the value of your IP assets.
---
Martina Širol | Project Management
Join us for an enlightening Project Management Workshop conducted by Martina Širol, a seasoned entrepreneur with extensive international experience across various business sectors. This workshop is designed to equip you with the essential skills and knowledge to effectively manage projects in the initial phases of your business.
Throughout the course, you will:
🔸 Understand the fundamentals of project management in the initial phases of a business and its significance for entrepreneurs
🔸 Gain practical insights and step-by-step guidance for successful project management
🔸 Learn how to develop your own project management plan
🔸 Acquire valuable knowledge and skills applicable to your own projects
This interactive workshop will feature numerous real-life examples, allowing you to apply the concepts directly to your own business endeavors. Martina's expertise and experience will provide you with practical tips and techniques that can greatly enhance your project management abilities.
---
Esther Celosse | Idea Generation
Discover the power of idea generation and refinement in the dynamic workshop conducted by Esther Celosse LL.M., a seasoned expert and the founder of Return2Career. As a long-standing contributor to the Entrepreneurial Woman Project (EWP), Esther has been instrumental in guiding participants through the exhilarating journey of unleashing their creativity and exploring innovative solutions.
During the Idea Generation Workshop, Esther will lead you through a hands-on exercise designed to ignite your imagination and foster "out-of-the-box" thinking. Through a challenging approach, you will learn to break free from conventional thought patterns and tap into your innate creativity. Esther will introduce you to powerful techniques such as Parallel Thinking and Lateral Thinking, which will empower you to approach problem-solving from multiple perspectives.
"I am delighted to work with the EWP for the 10th time. I have been involved right from the start of the EWP program and have been training ALL the participants on the exciting topic of Idea Generation and Idea Refinement. Every year again, the EWP group shows talent beyond the ordinary, motivation as high as a mountain and energy a plenty".
This interactive workshop goes beyond theory, offering a vibrant and engaging exchange of ideas among participants. Esther believes that building strong relationships and fostering a collaborative environment are key to the success of any entrepreneurial endeavor. By sharing and refining your initial ideas within the group, you'll benefit from diverse perspectives and collective wisdom, setting the stage for innovative breakthroughs.
To find out more about Esther's remarkable ventures, visit her website or explore the company page on LinkedIn.
---
Adis Sabanovic | Business Model Canvas
During the Business Model Canvas Workshop, Adis will share invaluable insights on formalizing and validating your project, taking you a step closer to making your dream venture a reality. Discover the art of defining a compelling value proposition that resonates with your target audience, and learn how to craft a business model tailored to your unique vision and aspirations.
As a consultant at the House of Entrepreneurship in Luxembourg, Adis is well-versed in guiding businesses of all kinds, from traditional establishments to cutting-edge start-ups.
"This workshop will give you the essential elements for the formalisation of a reliable project, focusing on the procedure to create a validated project out of your ideas, marking a valuable step of the business creation path.
Recognising the importance of maintaining focus and prioritizing actions when translating ideas into reality, this workshop is aiming to equip participants with the tools to define their unique value proposition, align it with the needs of their prospective clients and develop a business model that aligns with their personal vision and professional goals."
---
David Holland | Marketing & Sales
In our upcoming Marketing & Sales Workshop, David will share his proven strategies to conquer the challenges of entrepreneurship and turn them into opportunities. Whether you're a seasoned business owner or just starting your journey, David's engaging and results-oriented style will equip you with essential skills in areas like presentation, negotiation, emotional intelligence, and team excellence.
With clients in 37 countries and over 45 published books on Business and Personal Development, David brings a wealth of expertise to his workshops. As the founder of Results Rules OK, his coaching programs are designed with one clear objective – delivering real results for his clients.
Don't miss the chance to learn from one of the world's most experienced coaches, David Holland. With a remarkable career spanning Engineering, Logistics, Aviation Services, and Recruitment, David has been an International Business Coaching pioneer since 2003.
Take the leap towards business success by joining our dynamic group of entrepreneurs. Learn from David's invaluable insights and principles, gained from his own entrepreneurial journey. With a supportive and empowering community, you'll find inspiration and guidance to overcome obstacles and make the most of every opportunity.
Visit his website to know more.
---
Loïc Guelfi | Business Plan
Are you ready to turn your business idea into a concrete, investor-ready plan? During this comprehensive course, you'll gain a deep understanding of why, when, and how business plans are crucial for your project's success.
Loïc will guide you through the essential elements of a business plan, ensuring its relevance and effectiveness for your specific venture. From financial forecasting to feasibility analysis, you'll learn how to craft a robust plan that attracts investors and propels your business forward.
With Loïc's expertise and hands-on approach, this training incorporates practical exercises that will put your newfound knowledge into action.
Whether you're just starting or looking to scale your business, this workshop is designed to empower you with the tools and insights needed to create a compelling and comprehensive business plan.
---
Pauline Wirtzler | Employment and Commercial Practice
Are you navigating the complex world of employment and commercial law in Luxembourg? Gain a competitive edge and enhance your understanding of the legal landscape with Pauline Wirtzler's exclusive workshop.
Focused on the intricacies of Employment, Compensations & Benefits, and Commercial practice, Pauline brings her expertise to the forefront to help participants tackle the legal challenges that non-technical professionals often face. Whether you're an aspiring entrepreneur or a seasoned business owner, this training is designed to equip you with invaluable tips and tricks for leveraging the positive aspects of Luxembourg's legal environment.
Get ready to delve into the nuances of employment law and commercial law, as Pauline guides you through the essential elements to empower your business decisions. By the end of the workshop, you'll have the confidence to navigate the legal complexities and make informed choices that drive your business forward.
You may find out more about Pauline here.
---
Pelagia Baxevani | Social Enterprises & Funding Opportunities
Social enterprises can play a vital role in addressing social and environmental challenges. However, finding and securing funding can be challenging, as they need to balance between social mission and financial viability. During this workshop, you will learn more about the main funding sources for positive impact entrepreneurs in Luxembourg.
Pelagia has a long experience in supporting entrepreneurs through her engagement at nyuko. Passionate about sustainability, social innovation and inclusion, she coordinated Impuls, a support program for social entrepreneurs for more than 6 years. As an expert in the program EWP, she will share her knowledge and will give an overview of the funding opportunities for your positive impact project.
"I'm so delighted to contribute to this program and help participants have an overview of the typical financing sources available in Luxembourg. What an incredible positive energy in every training thanks to the ladies!"
---
Lisa Burke | Public Speaking
Join us for a transformative public speaking training led by Lisa Burke, a seasoned presenter, moderator, host, speaker, and public-speaking coach. In this engaging session, you'll discover that public speaking is not about possessing a predefined set of skills, but rather about building confidence through practice and self-awareness.
Learn to:
🔸 Introduce yourself confidently
🔸 Talk about your business idea in short and long form
🔸 Interview your partners on the course
🔸 Present your pitch
"Over the years as I have worked with people individually, there is no 'key' set of skills to become a brilliant public speaker. It's all about practice. However, so much of what we do on stage is linked to our internal confidence. Therefore, I always try to tap into the person themselves", says Lisa.
By fostering a safe and supportive group environment, Lisa will encourage you to speak openly about your ideas and challenges, whether that be in business or in life (as the two are connected).
---
Adina Mihalache | Business Entities
Embarking on a journey into the intricacies of corporate law, particularly within the domains of mergers and acquisitions, joint ventures, and international corporate restructurings, takes a skilled guide. Adina Mihalache, a distinguished Senior Associate at Arendt & Medernach, is that guide for business entities seeking to navigate this complex terrain.
Adina's expertise lies in her comprehensive grasp of corporate law intricacies, combined with her specialization in advising international companies, prominent private equity firms, and substantial real estate funds. With a wealth of experience, she has earned her stripes in transactional business law, corporate finance, and other critical aspects of the field.
Engaging in training under Adina Mihalache's guidance promises a voyage through the intricate realms of corporate law, bolstered by her experience, expertise, and commitment to legal excellence and inclusivity. Business entities seeking to fortify their understanding of corporate law and gain actionable insights will find in Adina a knowledgeable and proficient guide.
---
Justine Guilluy | VAT
In the dynamic realm of taxation, understanding the nuances of Value Added Tax (VAT) is essential. Justine Guilluy, a seasoned Director in the Indirect Tax department at ATOZ, emerges as a guide to unravel the complexities of VAT for individuals and businesses seeking to navigate this intricate landscape. As a tax professional since 2016, Justine provides advice on indirect tax matters to a wide range of Luxembourg and international clients, focusing on alternative investments and private equity.
By the end of the training, participants can expect to:
🔸 Grasp the overarching mechanisms of the VAT system, enabling them to decipher its functioning.
🔸 Skillfully determine the appropriate VAT treatment for fundamental transactions, ensuring accurate tax application.
🔸 Articulate the regulations governing the recovery of input VAT, a crucial facet of managing tax liabilities.
🔸 Attain a robust understanding of Luxembourg's VAT compliance obligations, enabling seamless adherence to local regulations.
Conducting the VAT training with Justine entails a transformative experience. The objective is clear: to equip participants with a broad comprehension of the VAT system while delineating the primary VAT obligations of taxable individuals and entities.
---
Petya Dimitrova | Taxes
In the intricate landscape of taxes, having a skilled guide can make all the difference. Petya Dimitrova, a Partner in the esteemed International Corporate Tax department at ATOZ Tax Advisers, stands as a beacon of knowledge and guidance for individuals and businesses seeking mastery in tax matters.
Petya's expertise lies at the intersection of tax law and financial strategy. With a particular focus on Private Equity, Real Estate, and Infrastructure sectors, she is adept at offering invaluable insights to General Partners and investors alike. Her counsel revolves around devising tax-efficient structures that not only boost profitability but also ensure meticulous adherence to regulatory frameworks.
Within her training, Petya demystifies the complex world of taxes. Covering the foundational principles of individual and corporate taxation, she lays a strong groundwork for trainees to build upon. Her approachable teaching style and ability to simplify intricate concepts transform seemingly overwhelming tax topics into manageable insights.
Petya's deep insights, practical experience, and dedication to simplifying complex tax matters make her an invaluable guide for anyone seeking to gain a strong foothold in the world of tax compliance and strategic planning.
---
Artur Sosna | Networking
Embarking on a journey of professional growth and success requires more than just individual expertise; it demands a robust network of connections and collaborations.
Artur Sosna, the Head of Business Development at Goeres Group Luxembourg and President of the Luxembourg-Poland Chamber of Commerce, emerges as a guide to lead you through the art of networking – a crucial skill for individuals aspiring to excel in today's dynamic business landscape.
With an impressive background spanning two decades in cross-border business development across Europe, Artur Sosna's expertise is anchored in real-world experiences. His journey has encompassed interactions with over 2,500 clients, traversing economic epicentres such as Luxembourg, Germany, France, Denmark, Belgium, and Poland. Having facilitated transactions worth over 18 million Euros, his accomplishments are a testament to the power of networking.
In a world where connections are the currency of success, training with Artur Sosna is a gateway to a world of possibilities. Embrace the wisdom of a born networker and equip yourself with skills that can shape your professional trajectory. Your success story begins with the connections you cultivate.
---
Ignite Your Entrepreneurial Spirit: Join EWP & Win Big
Don't miss this incredible opportunity to be part of the Entrepreneurial Woman Project 2023. Join us in shaping a brighter future for women entrepreneurs by signing up today! Together, let's turn your business dreams into reality.
Stay tuned for more updates and inspiring stories as we delve deeper into the journey of entrepreneurship with our dedicated trainers. If you wish to know more about the 10th edition of the Entrepreneurial Woman Project, visit its dedicated page.