LPCC Interview of the Month: Patrick Berg, CEO at Domaines Vinsmoselle
November 20, 2019
by
lpcc
in General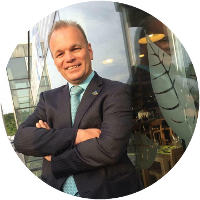 Mr. Patrick Berg – CEO, Domaines Vinsmoselle
Interviewer: Mr. Artur Sosna
Artur: Export has always been the driving force for Domaines Vinsmoselle, a cooperative of winegrowers from Luxembourg established in 1921. Around 50% of your current wine and crémant production goes to several countries around the globe, for a total volume of around 5 million bottles per year.
But… most of the cooperative's exportations go to Belgium (around 80% of the total exports). Belgium is undoubtedly a good market, but Luxembourg depends too much on it economically. The prices are also very competitive in our neighbouring country.
That is why, since becoming Domaines Vinsmoselle's CEO, your strategy for the years to come is focused not only on "status-quo", but also on making Luxembourg wines and crémant popular in countries like Canada, China, or Poland. As President of the Luxembourg-Poland Chamber of Commerce, my primary focus is the business relations between these two countries.
Hence my interest in Domaines Vinsmoselle's plans about Poland. The latter has over 38 million inhabitants, which makes it the largest EU market in Eastern Europe. Considering its constant economic growth for the past 28 years and its fast-growing middle class, with increasing purchasing power, Poland looks like a promising export destination. What is Domaines Vinsmoselle's strategy for the Polish market? How do you plan on competing with wines from other large wine-producing nations?
Patrick: Yes, indeed, we have a history of exporting around 50% of our still wine production and close to 25% of our crémant and sparkling wines to Belgium, as you rightly pointed out. This has historic reasons. One of the main goals of the joining of the cooperative wineries in Luxembourg, back in 1966, was to foster exports and, thus, relieve the domestic market and ensure a stable price environment at the national level. Belgium has always been and still is the traditional export partner for Luxembourg due to the early customs union.
However, due to the Belgian market being highly price-sensitive and extremely competitive, I felt the need to reduce our dependency on it.
Today, we have a budding business in Germany, and we have started sales in the United States, Finland, the United Kingdom, as well as in the Baltic countries.
Poland is of particular interest to us for the exact reasons you have just mentioned. A thriving economy, a fast-growing middle class and an appetite for niche products. And this is where I see our opportunity. On a global scale, we are a very small player in the wine world: however, I believe we have exceptionally high quality at a very reasonable price. Our USPs are "exotic, high quality and still affordable".
Today we are looking to find the right partners, importers and/or distributors to move forward in Poland. Our focus lies hereby on quality and specialty wine merchants and the restaurant trade. I prefer to work with specialized merchants or higher-end supermarkets as compared to discounters. Nonetheless, a volume driver for our entry-level wine series is also of interest to us.
Artur: The Luxembourg-Poland Chamber of Commerce has over 60 corporate and 40 private members: where do you see the potential of marketing your wines and crémant within our organization? What about your ideas on how to target the 5000+ Poles living in the Grand-Duchy and thousands more of them living within the Greater-Region (at the borders of our neighbouring countries Germany, Belgium, and France)?
Patrick: As a general rule, we are finding it difficult to reach out to expats living in Luxembourg and its Greater Region. Which media should we use to connect with them? Where are the potential contact points? Those are the questions we ask ourselves, and the LPCC is one way of addressing these issues and reaching out to Poles in the area.
At the corporate level, Domaines Vinsmoselle can provide locations for corporate events, with or without winery tours and tastings. We have a large portfolio of venues, with various guest capacities ranging between 20 and up to 500 people. We are also interested in joint "after-work" events, combining networking and fostering the knowledge about Luxembourg's wine culture.
Lastly, as the end of the year is looming around the corner, I would like to invite all of you to have a look at our end of year gift ideas.
Artur: In November 2019, Domaines Vinsmoselle started a new marketing campaign promoting products in a more "personal" way. A new product line now displays portraits of your winemakers on the bottles. Your 240 vintners producing wine and crémant between Schengen and Wasserbillig across the Moselle river must feel proud to see their faces on the labels of the product they passionately craft. How did you come up with this idea?
Patrick: Indeed, we launched a new brand called "Les Vignerons de la Moselle" on November 4th. The idea sparked from the observation that we had to do something new, something out of the ordinary and that had not been done by any other winery in Luxembourg. I deliberately wanted to leave our comfort zone and break with traditional concepts, without denying our traditional core values. The process started some 18 months ago when we took a good look in the mirror to pinpoint our core values. Next, we conducted interviews with potential customers to validate or correct our findings. We then asked a panel of customers what they associated with Luxembourg's white wine: what key elements do customers look for to make their purchasing decisions?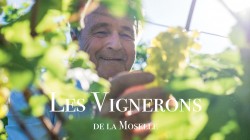 These interviews led to the identification of three USPs: Respectful, Authentic, Passionate.
Respectful of the environment, as the wines are our winegrowers' most precious good. Authentic, as we work with real winegrowers from Luxembourg: our wines are 100% sourced from Luxembourgish grapes. Passionate about the wine-making craft, but also passionate about wine.
As the vintners are the link between the grapes and the consumers, we decided to put them at centre stage and have their faces on the labels of the new brand, their signature adding to the authenticity. This is no fake marketing act: the vintners are real people behind our brand, and they tell their stories on our new website.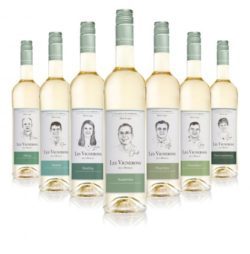 Moreover, as I already said, I wanted to break with tradition and thus we decided to drop the typical Luxembourgish green flute bottle and opted for a modern, transparent bottle. The interviews clearly showed us that customers associate a lively, fresh and modern product with this kind of bottle.
We took quite a few chances with this new brand, but so far, it's been paying off.
Artur:What is your personal wish for the wine and crémant exporting nation Luxembourg?
Patrick: I truly hope that we as a trade succeed in convincing the world that Luxembourg is a true gem for white wines, especially Pinot Blanc, Pinot Gris, our unique Auxerrois, but also Riesling. We are the hidden champions, the real insider tip, the connoisseur's choice.
A small country of great wines.
Discover Luxembourg's fine wines with Domaines Vinsmoselle at our 28 November Meetup. Register for the event at this link.