Highlighting the Glamour and Success of the 5th Edition: A Recap of The Summer Business Party 2023
June 20, 2023
by
oliwia
in Events
We are thrilled to share the highlights and unforgettable moments from the 5th edition of our flagship event, The Summer Business Party. This prestigious soirée, held on the 8th of June 2023, at the Residence of the Ambassador of the Republic of Poland in Luxembourg, brought together LPCC Corporate Members, distinguished guests, and sponsors for an evening of networking, cultural celebration, and business prospects.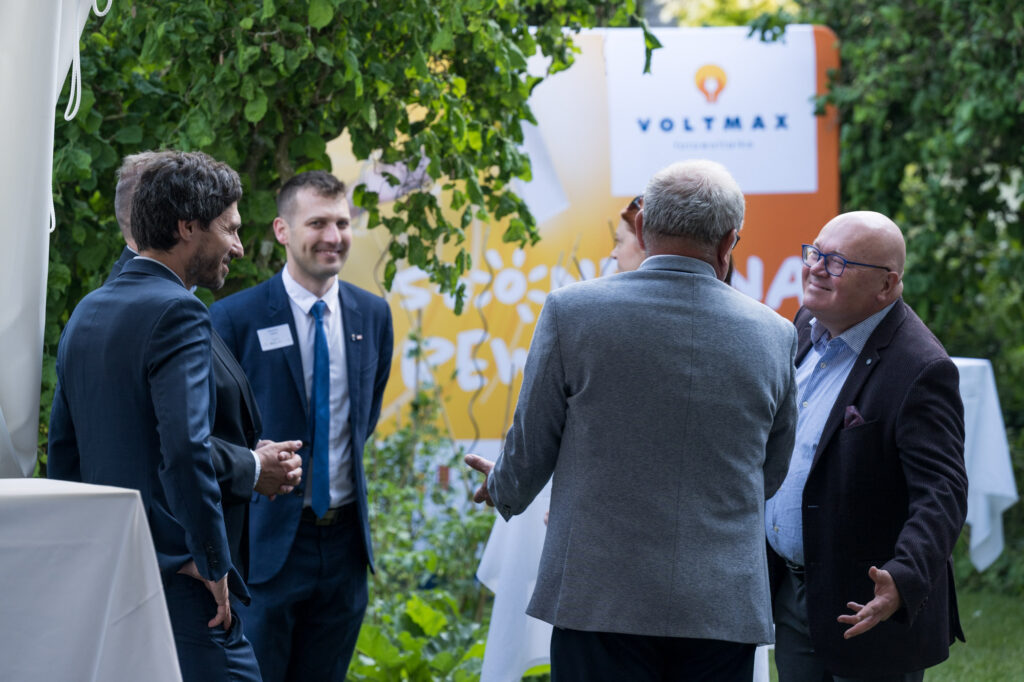 Since its inception in 2019, The Summer Business Party has become an esteemed tradition where professionals gather over dinner, networking, and live music. This exclusive event serves as a platform to promote regional trade and culture abroad while acknowledging the mutual efforts of diplomacy and business. With participation reserved for LPCC Corporate Members and invited guests of our Sponsors, it creates a unique environment for around 100 industry leaders to connect and explore new business opportunities.
Sponsor Spotlight
We are delighted to have had Voltmax Salr as the sponsor of this year's edition. Voltmax Salr, a company holding a Luxembourg license for the installation of photovoltaic systems, showcased its comprehensive range of services aimed at reducing electricity costs and carbon dioxide emissions. Their expertise in designing, installing, and servicing photovoltaic and energy storage systems, along with their commitment to sustainability, exemplifies their leadership in the renewable energy sector. We are proud to support their expansion into the Luxembourg market and their dedication to creating a sustainable energy future.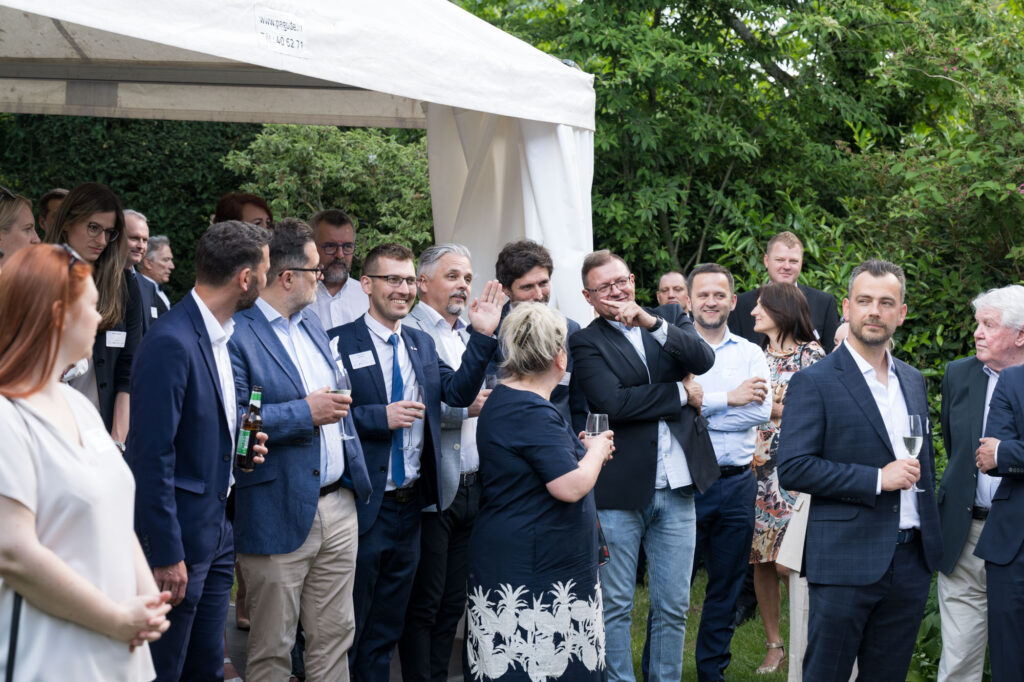 On behalf of our company VOLTMAX s.a.r.l. being one of the sponsors of the Summer Business Party, I would like to thank all guests for their presence at the meeting. I am grateful to the hosts of the meeting, His Excellency the Ambassador of Poland, Mr Piotr Wojtczak and his wife Iwona, Counselor at the Polish Embassy, and Mr Artur Sosna, President of the LPCC, for allowing us to meet so many wonderful business executives from Luxembourg and Poland. We are very impressed by the people we have met and their achievements. We will make every effort to achieve the goals we have set for ourselves and the opportunities that lie ahead of our companies and regions. In fact, we have already started working on some projects that emerged. The excellent atmosphere of the meeting, highlighted by the beautiful scenery of the residence and fantastic weather is a great start.

Please remember our company VOLTMAX s.a.r.l. in domestic and corporate decisions in the context of investments in renewable green energy sources. One of us, Krystian Gajda – is at your disposal in Luxemburg on the phone number 00352 691 9863 12 and e-mail address: k.gajda@voltmax.lu

Michał Purc, CEO of Voltmax Sarl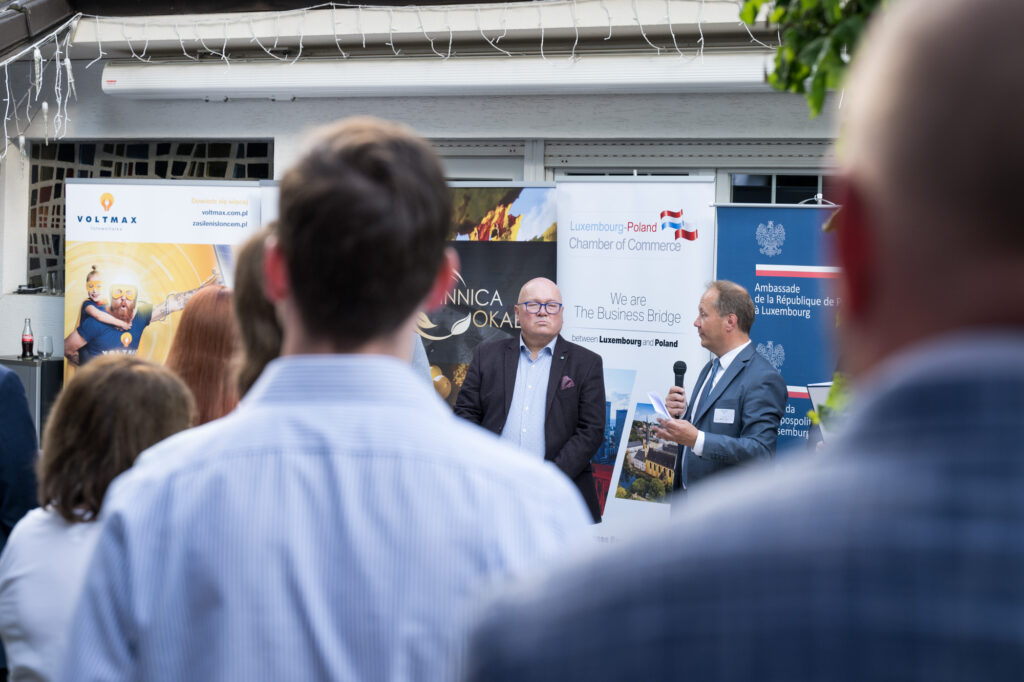 Partner Spotlight
Our esteemed partner for this year's event was the Lodzkie Region, known for its rich cultural heritage, growing economic potential, innovation, and investment opportunities. At The Summer Business Party, they highlighted the region's thriving winemaking industry. Four exceptional enterprises—Okalew Vineyard, Sopel Vineyard, Pasieka Jaros, and Browin—showcased their dedication to quality, craftsmanship, and innovation.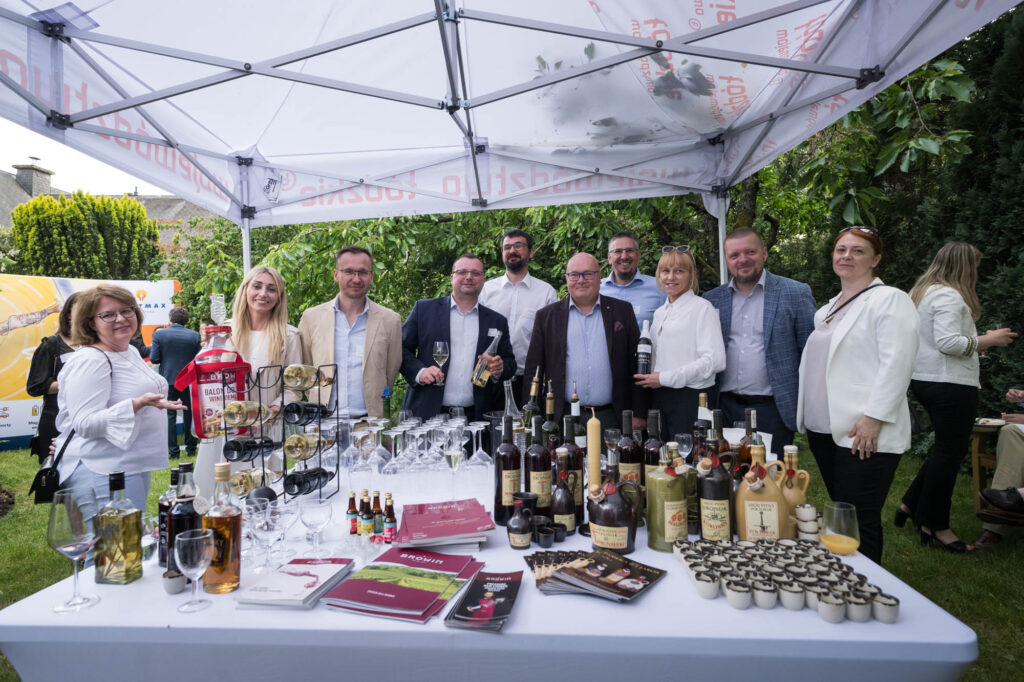 The guests had the opportunity to immerse themselves in the world of winemaking, savouring the exquisite creations and experiencing the passion and dedication of these exceptional businesses:
Pasieka Jaros was established in 1978 as a family business specializing in bee breeding and the processing of beekeeping products. However, it was in 1991 that they ventured into the production of mead, which has become the cornerstone of their business. In addition to mead production, they also have a department dedicated to utility and decorative ceramics.
At Pasieka Jaros, their meads are crafted using natural methods, devoid of preservatives, enhancers, artificial colours, and flavours. The key ingredients used in their production are bee honey, water, and fruit juices. The exceptional taste profiles of their meads develop over the course of several years of ageing. Their dedication to quality has been recognized through their successful participation in the prestigious International Mead Competition in the USA, including the Mazer Cup held in Boulder, Colorado.
Pasieka Jaros | Łazisko 46, 97-200 Tomaszów Mazowiecki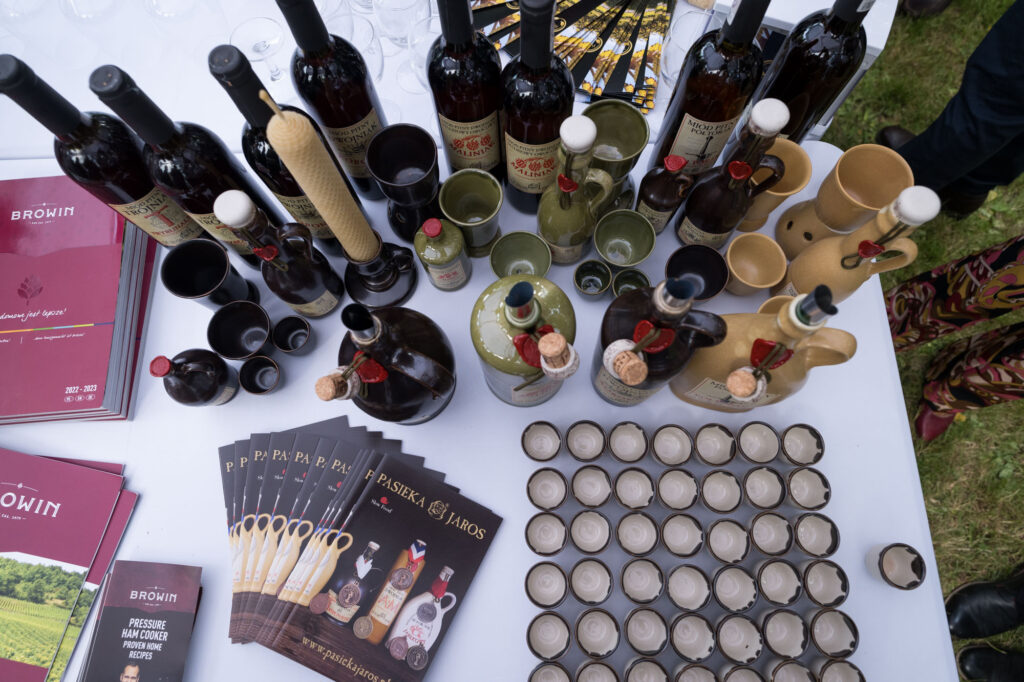 Jolanta and Krzysztof Wojciechowski's Family Winery is dedicated to grape cultivation and producing wine from their own harvest. Located in the southern part of the Lodzkie Region, in the village of Okalew near Wieluń, the winery spans an area of 3 hectares.
The cultivated grape varieties include rondo, hiernal, vidal, and solaris. The fruits are carefully handpicked, and the wine undergoes a long ageing process in oak barrels, which imparts it with distinctive aromas. In the near future, the winery plans to open a building with a restaurant and wine cellars, covering an area of 800 m², for the maturation of their wines.
Winnica Okalew | Okalew 17 b, 98-311 Ostrówek
Sopel Winery is a family-owned vineyard located in the picturesque and beautiful region of Łódź, Poland. Run by a young couple with a passion for wine and a strong focus on its quality, the winery embodies their energy and dedication.
The first plantings, covering an area of 1 hectare, were done by the entire family in 2018. Since then, each season has been a valuable learning experience, and the hard work in the vineyard brings them immense joy and satisfaction. With a commitment to the highest quality and flavour of their wines, it was not until 2023 that they decided to release their wines for sale.
Nestled in the heart of Poland, near the stunning town of Głowno, in an area with a unique microclimate and captivating landscapes, their wines come to life. Their flagship wine, "White Virgin," is a tranquil white wine made from classic grape varieties such as Seyval Blanc, Johanniter, and Saint Pepin. It boasts delightful and original aromas of green apples, citrus, herbs, and wildflowers. The wine is available in dry and semi-dry versions. When it comes to food pairings, their "White Virgin" beautifully complements poultry, seafood, and delicate salads. It also pairs wonderfully with fish dishes, including aromatic sushi.
Since May 2023, they have also introduced red wines under the name "Red Devil" in both dry and semi-dry versions. These wines are crafted from grape varieties such as Regent, Leon Millot, Marechal Foch, and Frontenac.
Winnica Sopel | Ziewanice 489, 95-015 Głowno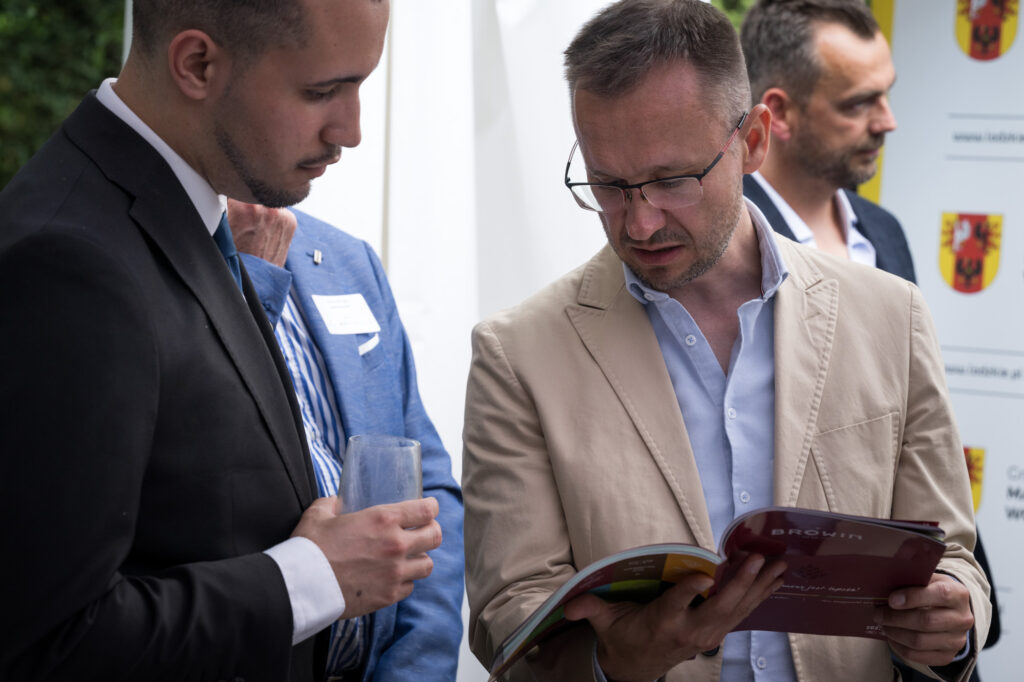 Browin is a market leader in several product categories, dedicated to their top brands:
Biowin | Browin: They offer a wide range of essential accessories for home processing, including those for meat, wine, beer, baking, cheese-making, and distilling.
Bioogród: They provide garden accessories for all your gardening needs.
Bioterm | Soens | 2measure: Their portfolio includes precision measuring devices and instruments.
At Browin, we embrace modern technologies such as 3D printing to create innovative products. We have our own microbiological laboratory with an implemented HACCP system, where we conduct research, refine recipes, and increase the production of our own products. We continuously invest in our machinery park, which drives our search for new markets. We have marketing materials available in multiple languages, including catalogues, instructional videos, and industry publications. We also possess expertise in the field, which we are eager to share with our current and potential trading partners.
BROWIN Sp. z o.o. | Ul. Pryncypalna 129/141 , 93-373 Łódź
Unforgettable Evening
The event commenced with a registration period, followed by captivating welcome speeches from distinguished guests. H.E. Piotr Wojtczak, the Ambassador of the Republic of Poland in Luxembourg, Artur Sosna, the President of LPCC, Marcin Bugajski, Lodzkie Region Representative, and Krystian Gajda, Co-owner of Voltmax Sarl, set the tone for the evening.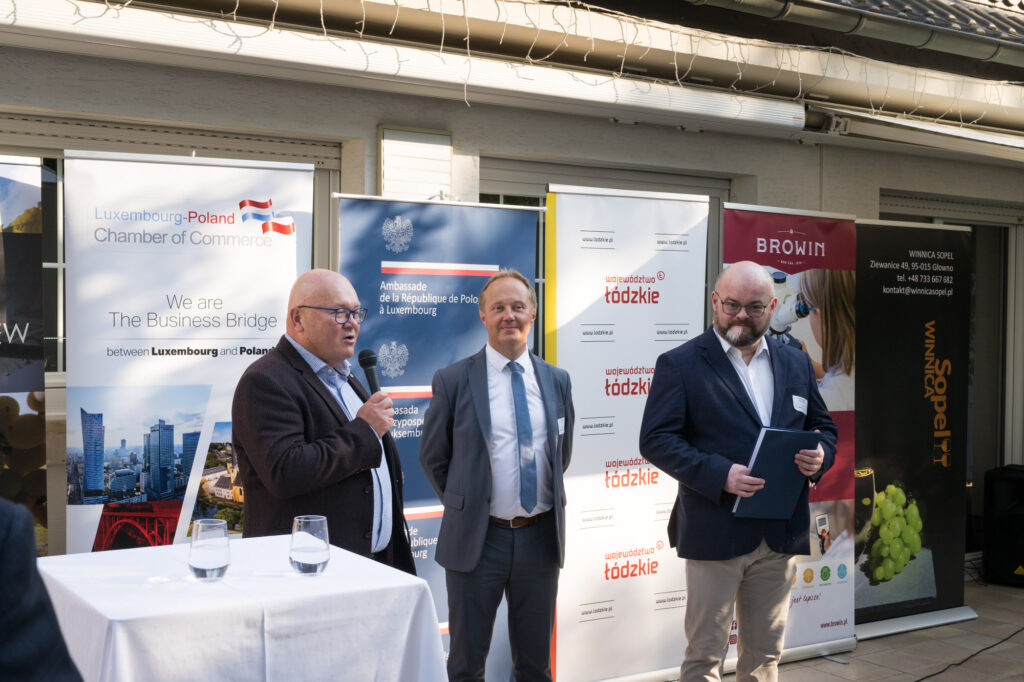 The celebration continued with a vibrant networking session, where guests enjoyed refreshing beverages while being serenaded by live music. The ambience and interactions fostered valuable connections, insightful discussions, and the exploration of new business prospects.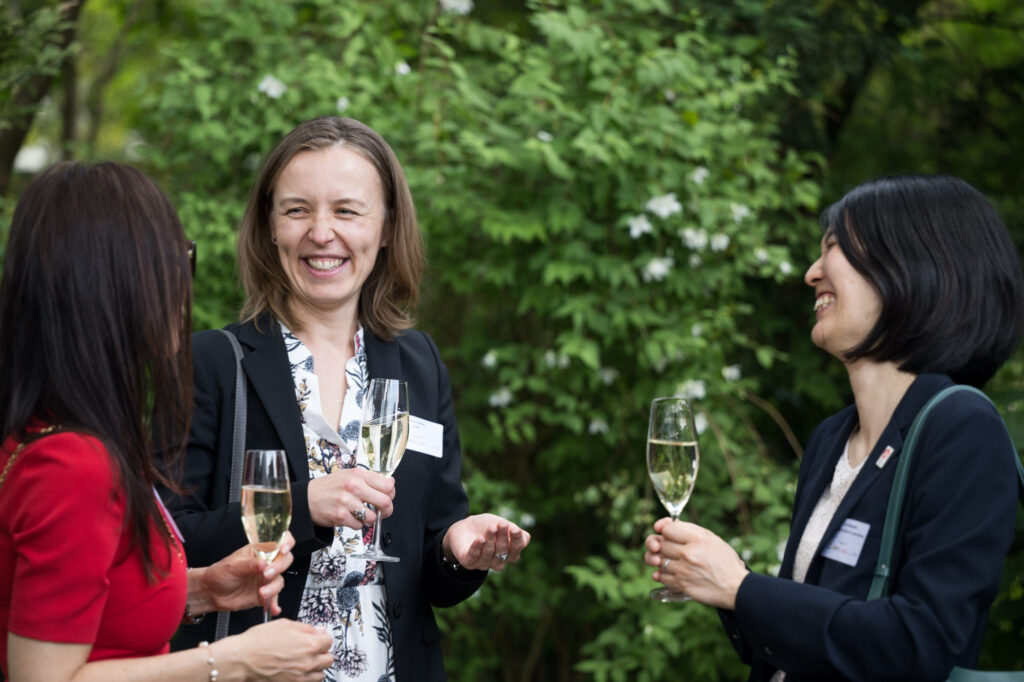 We extend our heartfelt gratitude to all the attendees, LPCC Corporate Members, sponsors, partners, and distinguished guests for making The Summer Business Party an exceptional success. Your presence and contributions created an atmosphere of collaboration, inspiration, and growth.
The 5th edition of The Summer Business Party surpassed expectations and showcased the power of networking, diplomacy, and cultural exchange. We are proud to have provided an exclusive platform where industry leaders could connect, celebrate, and explore business prospects. The event's success was made possible by the unwavering support of our sponsors, partners, and LPCC Corporate Members.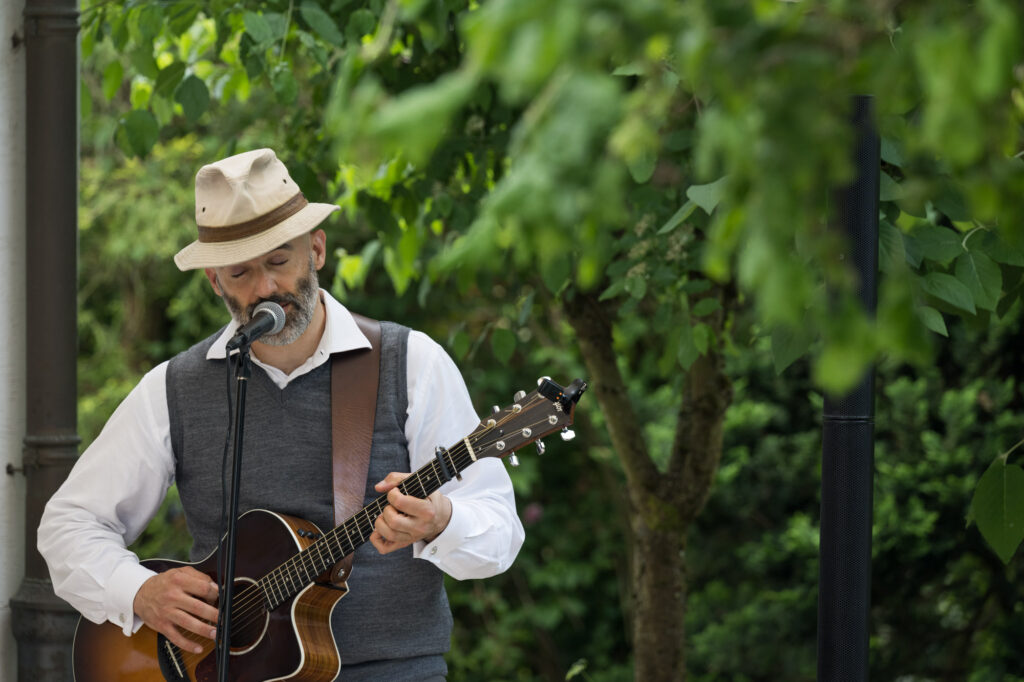 We invite you to relive the magical moments of The Summer Business Party through the photo gallery available on our website. Stay connected with LPCC for more exciting events, insightful content, and business opportunities.
Thank you for being part of this remarkable evening!