03jun12:00 am5:00 pmImpact re:action 2020
Event Details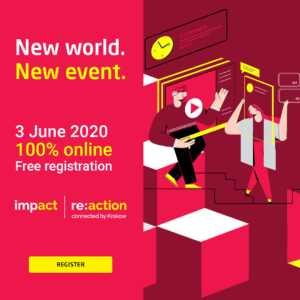 Impact re:action 2020 connected by Krakow is the first economic event organized by Impact 100% online and it has been divided into three main thematic tracks ((digital economy, next health and borderless science) each of which features experts presenting specific ideas and strategies for the future of the Digital Economy, Biotechnology and Digital Education.
The event feature business leaders and key decision makers shaping the future of the economy and the new world. Among the people discussing the new rules governing the economy, politics and business will be: Jadwiga Emilewicz, Deputy Minister, Ministry of Economic Development, Paweł Borys, Polish Development Fund, Piotr Arak, Polish Economic Institute, Janusz Cieszyński, Ministry of Health, Justyna Orłowska, Bartosz Ciołkowski, Mastercard, Ministry of Digital Affairs, Kai Keller, World Economic Forum, John Cohn, MIT-IBM Watson AI Lab, Esther Wójcicki, Planet3 and many others.
Impact re:action 2020 connected by Krakow is your chance to discover real solutions and business plans that will help your company or organization find its footing in the current reality – making it better prepared to meet new challenges faster.
The event will take place on the specially designed Impact Online Platform.
Starting at 12:00 noon we invite you to the Home Page of Wirtualna Polska. There – as part of Impact re:action Day on WP – journalists from Wirtualnej Polska will invite key figures from the world of business, politics and science to discuss the future of the economy, healthcare and education. This will take place in a specially arranged studio featuring several guests. Also – directly following Impact re:action 2020 connected by Krakow and also on WP – a debate will take place between the Members of the Selection Committee for the Money.pl Economic Award.
Users who register on the Impact Online Platform will receive free access to the reports presented during the event as well as additional materials and video content.
Time

(Wednesday) 12:00 am - 5:00 pm