14nov6:30 pm9:00 pmGeneral Assembly and ENTREPRENEURIAL WOMAN PROJECT AWARDS
Event Details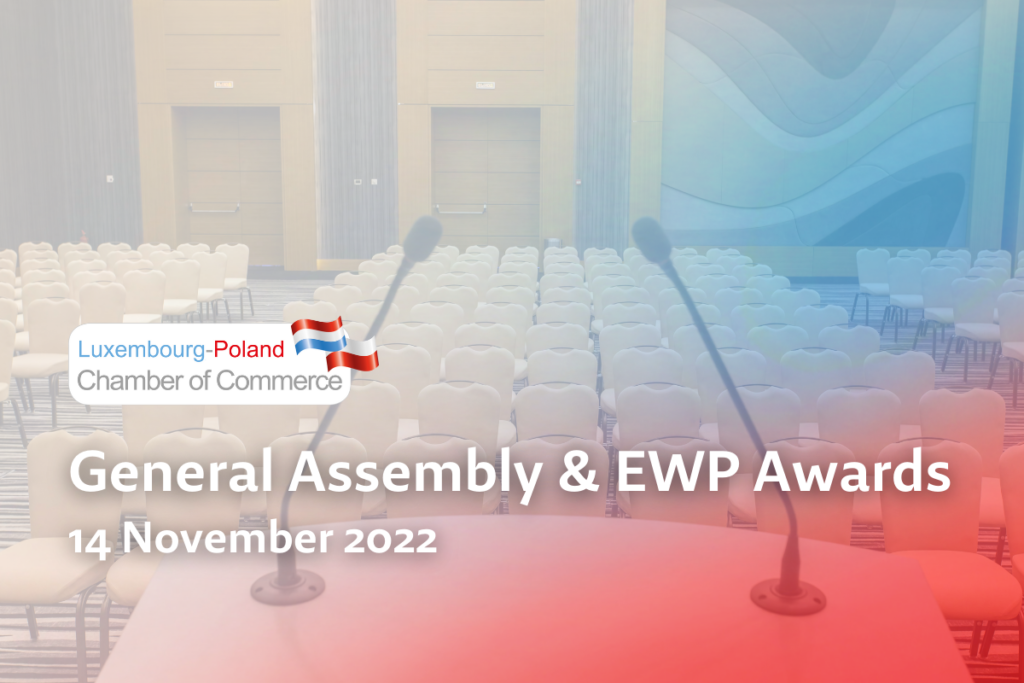 The Managing Board of the Luxembourg-Poland Chamber of Commerce would like to cordially invite you to the 2022 General Assembly that will take place on Monday, 14 November 2022, at 18:30 at Arendt House; 41, Avenue J-F Kennedy, L-2082, Luxembourg. The 2022 General Assembly will be combined with the Grand Finale & Award Ceremony of the 9th edition of the Entrepreneurial Woman Project. We look forward to welcoming all members and friends of the Luxembourg-Poland Chamber of Commerce and celebrating 10 years of prosperous collaboration.
To RSVP, please click on the following link and fill in the registration form
_______________________________________________________
The agenda of the event consists of presenting activities of the Management Board and annual financial report for the year 2022, as well as activities planned for 2023. After discussing official LPCC affairs during the General Assembly, we will proceed with the Grand Finale of the 9th edition of the Entrepreneurial Woman Project.
Upon successful completion of the program the participants will receive their diplomas and the project sponsors will announce the winners of the competition for the Best Business Idea Presentation. The gala will be hosted by Lisa Burke and we will also hear from our special guest, the inspiring business persona from Luxembourg, Madame Chocolat.
The Award Ceremony will be followed by official celebrations including a banquet & live music.
____________________________
About the Special Guest: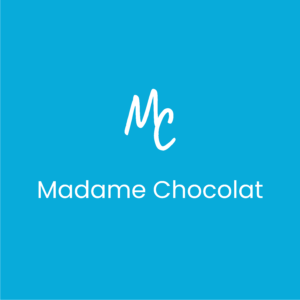 Madame Chocolat was created in June 2021 by Isabelle Alexander. After 20 excellent years in the financial world, Isabelle decided at the start of 2021 to completely change careers and pursue her passion. The goal is simple: to bring customers high-quality chocolates, candies and other delicious products and create a sweet experience they will remember. To do this Isabelle has decided to work with chocolate producers who respect tradition, use only natural products, are of very high quality, which are handmade from A to Z and offer a unique culinary and taste experience.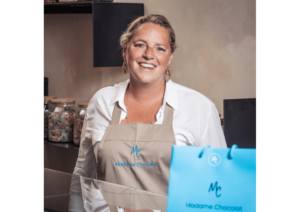 Madame Chocolat offers the traditional chocolates and the Sugar free chocolates (without added white sugar). Everything is handmade and all ingredients are natural, with no additives or preservatives. People often ask, why sugar free chocolates? The world is changing, so are what we eat and drink. Creating healthier alternatives is a must and it was Isabelle's goal to find the best of its kind. Sugar-free only exists if it is made artificially. But it is perfectly possible to create pralines without white sugar, which are delicious and can easily stand out from the traditional praline.
With Madame Chocolat, Isabelle wanted to create sweet memories by delivering quality, with an emphasis on natural and wholesome products that will keep customers coming back for more.
________________________________
Sponsors of the prizes of the EWP 9th edition are ATOZ, BSP and AQTEEV.
This edition of EWP holds special significance and unique patronage of Peakside Capital. They took the initiative to help aspiring women entrepreneurs who fled Ukraine and enable their growth by covering the costs of their training.
Time

(Monday) 6:30 pm - 9:00 pm
Location

Arendt House

41 Avenue J-F Kennedy